Greenie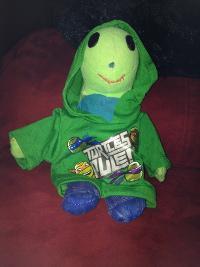 As a turtle, I am a really big fan of a certain foursome of adolescent turtles that practice martial arts. These characters really like pizza, which is how I discovered pizza and pizza delivery. I like pizza a lot. I like it so much that I am on a first-name basis with my pizza delivery man. His name is Pizza Man. He totally gets me! One of my favorite things is to call Pizza Man to order a large pepperoni for delivery to my house. I have my Mama's credit card to pay with. I like to give Pizza Man a big tip when he brings my pizzas.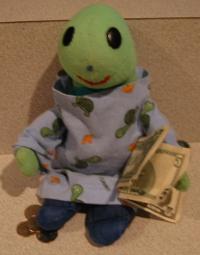 Greenie Turtle (Known as Greenie T. or Baby Greenie to his friends and family) is a plush turtle that was hatched in a Boston, Massachusetts area Toys R Us in the latter half of 1978.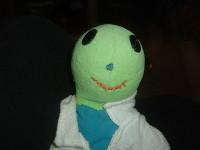 A Very Special Species of Turtle
The North American Suburban Plush Turtle (Terrapene Yankeeburbia Fuzzidee) is a specially evolved subspecies within a group of hinge-shelled turtles, normally called box turtles. T.y. Fuzzidee is native to the North American continent, particularly the United States.