Greenie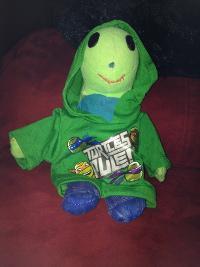 As a turtle, I am a really big fan of a certain foursome of adolescent turtles that practice martial arts. These characters really like pizza, which is how I discovered pizza and pizza delivery. I like pizza a lot. I like it so much that I am on a first-name basis with my pizza delivery man. His name is Pizza Man. He totally gets me! One of my favorite things is to call Pizza Man to order a large pepperoni for delivery to my house. I have my Mama's credit card to pay with. I like to give Pizza Man a big tip when he brings my pizzas.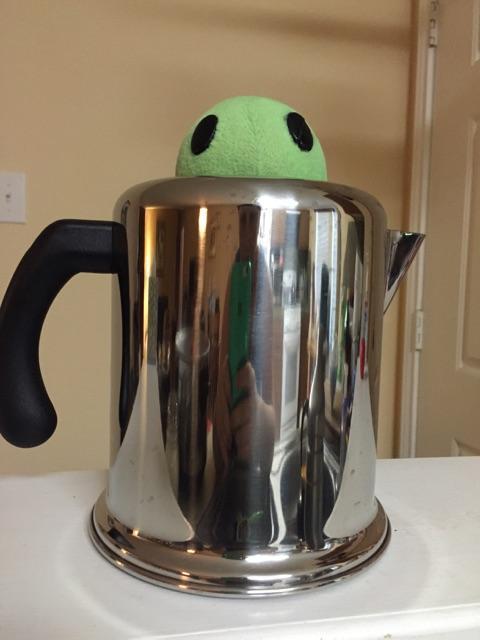 I am not a morning turtle. It's really hard to start the day when you are a 10 inch tall turtle in a big world. First thing in the morning I like to brush my teeth. Dental hygiene and fighting cavities is important, even for turtles. My toothbrush is green, naturally. After I brush my teeth, I like to comb my hair. A turtle always has to look his best, but then I remembered that I don't have any hair! I guess I already look like a million bucks without my comb!
The morning is a good time to practice healthy habits, so I started the day with a little exercise. It's important to stretch your muscles and get your heart rate up a little bit to stay fit. I did my favorite yoga moves like downward turtle and side planks to keep my shell supple. It was exhausting!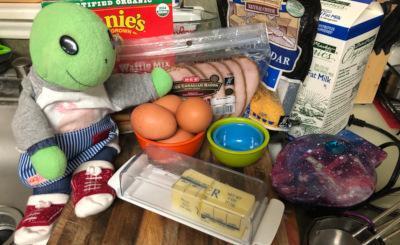 We've probably all enjoyed one of those fast food breakfast sandwiches while on the go. You know the ones… Sure they're delicious…but nutritious? Maybe not. I used my little waffle iron to create a fun homemade alternative. This recipe is really fun and easy. In fact, the hardest part is to stop yourself from snacking on the waffles as you make them.